RUUM Tiny Houses
Precision
In order to build and transport our houses in the most efficient way, we've learned that traditional building materials and methods don't always work. That's why we've leveraged precise CNC machines to ensure every piece is as close to perfect as possible. Keeping our tolerances tiny allows us to cut the framework into more manageable sections for construction and transport.
Humans make mistakes...
That's why we leave the boring and repetitive work that requires tight tolerances to the machines. Don't worry.. humans still do the thinking in the company.
Wood naturally expands and contracts a little as the weather changes. So, it doesn't matter how many times you measure, or how meticulous your cuts are - a traditional timber frame building will always shift throughout the year. For that reason, we use plywood for the structure. It's more dimensionally stable and amazingly strong, minimizing movement caused by fluctuations in temperature.
Our houses fit together just like a jigsaw puzzle. A huge, incredibly precise puzzle..
Sustainability
All of us need to think about what we're leaving behind on this planet. That's why we try to use sustainable materials wherever possible. Wood is a naturally warm material. In looks and feel, there's nothing like a wooden house to keep you comfortable during the cold winter months.
From the yakisugi cladding, plywood main structure, and wall panels to the wooden window frames and door - we try to use locally available, sustainable materials wherever possible.
Luckily, we have plenty of timber here in Estonia!
The smaller the house, the smaller the footprint
If you're conscious about what you're leaving behind on our planet, wood is the way to go. It's more environmentally friendly than bricks or concrete. And going tiny reduces that footprint even further.
The fact is, it doesn't take the same amount of energy to manufacture or to build a wooden house. And timber is one of the only building materials we can replenish. So you can rest assured in your new tiny house knowing it won't leave a permanent scar on our planet for years to come.
Quality by Design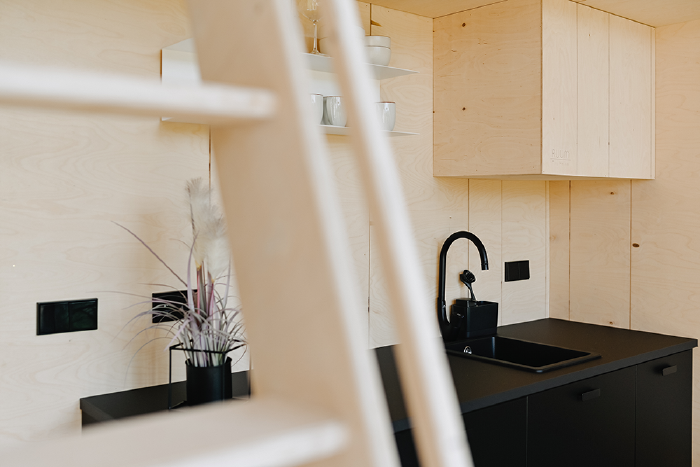 Instead of focusing solely on the price, we focus on good design and it drives a lot of our decisions. High quality materials and hardware means you can enjoy your tiny house for years to come.
Good design doesn't have to be overpriced
We're a little spoiled for choice when it comes to raw building materials. But the trick is to use them in a way that gives you that high quality without the hefty price tag.
At RUUM Tiny Houses, our love for Scandinavian design guarantees a house that's modern, stylish, and built to last - all at a reasonable price.
A tiny house is more than just four walls
Over time, we accumulate stuff. That's just a fact. From clothes and shoes to knick-knacks and gadgets, our homes and garages are full.
That's why going tiny can seem impossible or even insane to some. Where do you put everything?
Well, the short answer is: you don't. If you make the choice to go tiny, you'll need to get rid of a lot of stuff. But you'd be surprised at how much unused clutter you have in your life.
And if you're willing to make it happen, going tiny can be incredibly rewarding. In getting rid of the clutter, you leave more room in your life for what matters. You'll find you spend more time out in nature and make more thoughtful decisions about the things you buy.
Of course, tiny house living isn't for everyone. But luckily, our design is also ideal for use as a home office, art studio, gaming room, or guest suite for family and friends.
Let's talk about how we can make your tiny house dreams a reality